Recording Secrets For The Small Studio (2nd Edition)
Veteran Sound On Sound magazine contributor Mike Senior shows you how to achieve commercial-grade recordings even in the smallest studios, by applying power-user techniques from the world's most successful producers.
Recording Secrets For The Small Studio is an intensive training course specifically designed for small-studio enthusiasts who want a fast track to release-quality results. Based on the backroom strategies of more than 250 famous names, this thorough and down-to-earth guide leads you through a logical sequence of practical tasks to build your live-room skills progressively from the ground up, with user-friendly explanations that introduce technical concepts on a strictly need-to-know basis. On the way, you'll unravel the mysteries of many specialist studio tactics and gain the confidence to tackle a full range of real-world recording situations. Specifically designed for small-studio enthusiasts, this book provides an intensive training course for those who want a fast track to releasing quality results, while the chapter summaries, assignments, and extensive online resources are perfect for school and college use.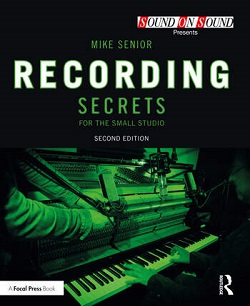 Learn the fundamental principles of mic technique that you can apply in any recording scenario – and how to avoid those rookie mistakes that all too often compromise the sonics of lower-budget productions.

Explore advanced techniques which help industry insiders maintain their competitive edge even under the most adverse conditions: creative phase manipulation, improvised acoustics tweaks, inventive monitoring workarounds, subtle psychological tricks…

Find out where you don't need to spend money, as well as how to make a limited budget really count.

Make the best use of limited equipment and session time, especially in situations where you're engineering and producing single-handed.

Pick up tricks and tips from celebrated engineers and producers across the stylistic spectrum, including Steve Albini, Neal Avron, Roy Thomas Baker, Joe Barresi, Howard Benson, Tchad Blake, T-Bone Burnett, Bruce Botnick, Joe Chiccarelli, Neil Dorfsman, Jack Douglas, Geoff Emerick, Brian Eno, Paul Epworth, Shawn Everett, Humberto Gatica, Nigel Godrich, Imogen Heap, Ross Hogarth, Trevor Horn, Rodney Jerkins, Andy Johns, Leslie Ann Jones, Eddie Kramer, Kevin Killen, Jacquire King, George Massenburg, Sylvia Massy, Alan Myerson, Justin Niebank, Gary Paczosa, Hugh Padgham, Alan Parsons, Tony Platt, Jack Joseph Puig, Phil Ramone, David Reitzas, Bob Rock, Elliot Scheiner, Al Schmitt, Laura Sisk, Fraser T Smith, Bruce Swedien, Butch Vig, Tony Visconti, Young Guru and many, many more…
Now extensively expanded and updated, with new sections on contact mics, software instruments, squash mics, and ensemble depth distortion.

– "Perfectly targeted… A book I'd be happy to recommend unreservedly to enthusiasts, students, and experienced practitioners alike."
Amazon reader reviews:

– "Stellar… a ton of great ideas."

– "There are nuggets of engineering wisdom on nearly every page… If you buy only one book on audio recording, this should be it!"
– "Wow, this is everything you will ever need to know about recording in one book! I could've skipped years of mistakes if I'd had this book earlier."
– "Another winner! Should be required reading for anyone trying to get better results from their home studio."
– "Goes deep where most books on the subject are superficial… I learned more in this book than I did from school!"
The book's extensive accompanying on-line resource pages provide hundreds of in-depth audio demonstration files, several practical explainer videos, the 'Recording Secrets' Library Of Mic Positions, detailed budget-friendly hardware/software recommendations, and lots of links to further reading.
About The Author: Mike Senior is a professional engineer who has worked with Wet Wet Wet, The Charlatans, Reef, Therapy, and Nigel Kennedy. He specialises in adapting the techniques of top producers for those working on a budget and has been a regular writer for Sound On Sound magazine since 2007. Mike is also the author of the best-selling Focal Press book Mixing Secrets For The Small Studio, has a long-running weekly production-critique blog The Mix Review, and creates podcasts, videos, and tutorials for the Cambridge-MT educational resources site.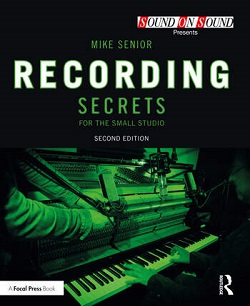 Available from: