Mixing Secrets For The Small Studio - Additional Resources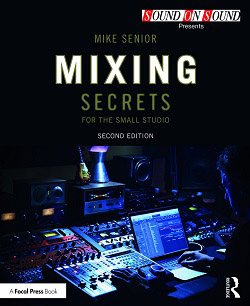 Chapter 9: Compressing For A Reason
Workflow Demonstration Video
Audio Files
(To download all WAV examples at once: 42MB ZIP)
Links
Affordable Compressor Plug-ins: Cockos ReaComp, Melda MCompressor, and Tokyo Dawn TDR Kotelnikov are all excellent freeware workhorse designs, with bags of user control. For a simpler freeware introduction to compression, try Eareckon FR-COMP 87 or Klanghelm DC1A and MJUC jr, all of which provide musical-sounding processing with a basic control set. Beyond these more general-purpose suggestions, here are some other favourites of mine which offer a range of different tonal side-effects to experiment with: ADHD's Leveling Tool; Audiocation's Compressor AC1; Audio Damage's freeware Rough Rider; De La Mancha's freeware Sixtyfive 32‑bit and GTA/GTO/GTX Compressor 32‑bit ; Distorque's freeware Vitamin C; Sknote's affordable Disto; Smacklabs's freeware SL543 Console Compressor 32‑bit & SL63x 32‑bit ; Sonic Anomaly's freeware Hybrid Bus Compressor; Stillwell Audio's affordable The Rocket and Major Tom; Variety Of Sound's freeware ThrillseekerLA/VBL 32‑bit , Density 32‑bit , and NastyVCS 32‑bit ; Vladgsound's Molot.

Affordable Limiter Plug-ins: Georg Yohng's freeware W1 Limiter; GVST's freeware GMax; LVC Audio Limited-Z; Sonic Anomaly's freeware Unlimited; Toneboosters's affordable Barricade, and Vladgsound's freeware Limiter No.6. If you need an additional level-reduction plug-in so that you can use mastering-style limiters for individual channel processing, then try GVST's freeware GGain or Sonalksis's freeware FreeG.

Target-oriented Drum Levelers: The two main players here are both payware: Sound Radix's original Drum Leveler and Melda's MDrumLeveler.
Further Reading
How To Use Classic Compressors: Many small-studio owners have access to a variety of digital emulations of classic analogue compressor designs. But which emulations are best suited to which musical applications? This 'Classic Compressors' article provides some useful pointers.