Mixing Secrets For The Small Studio - Additional Resources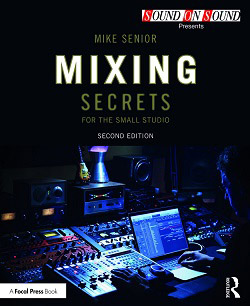 Chapter 4: Staying Objective
Audio Files
(To download all WAV examples at once: 5MB ZIP)
Effects Of Monitoring Volume: If you don't check how your work sounds at a selection of appropriate monitoring volumes, then your mix's overall tonality is more likely to be skewed on account of your ear's level-dependent frequency sensitivity, as in these examples of real-world home-studio mixes submitted to Mix Rescue: a mix monitored too loud Ex04.01: WAV/MP3play_arrow and a mix monitored too quiet Ex04.02: WAV/MP3play_arrow.
Links
Affordable Stereo Monitor Controllers: As mentioned in the book, a dedicated monitor controller is an excellent purchase for the small studio, and for mixing purposes I'd recommend a model with the following features: three independently switchable monitoring outputs (for your nearfields, Auratone-substitute, and grotboxes); a headphone socket; and a mono switch. Here are a few options which fit this spec at a reasonable price: SPL's MTC (which I use myself) & 2Control; Mackie's Big Knob (just count those double entendres in the original Sound On Sound Mackie Big Knob review!); the Presonus Central Station & Monitor Station; and the passive SM Pro Audio M-Patch 2.1. There are cheaper options too, such as the Behringer Xenyx Control2USB, but bear in mind that build quality and ease of repair are important considerations for monitor controllers given that their pots and switches inevitably get a lot of wear.

Automatic Loudness-matching Plug-in: Adjusting the levels of different reference tracks to match your mix in progress can be a chore, but there is an affordable plug-in from Klangfreund that can help by analysing the tracks during playback and adjusting the channel gains automatically: LUFS Meter. It's very easy to work, and I use it all the time these days.
Further Reading