Mixing Secrets For The Small Studio - Additional Resources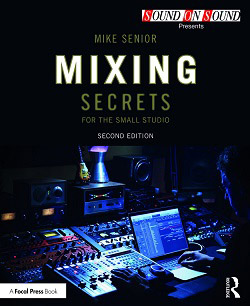 Chapter 10: Beyond Compression
Workflow Demonstration Video
<– Go to previous episode • Go to next episode –>
Audio Files
(To download all WAV examples at once: 15MB ZIP)
Dedicated Transient Processing: Here are a couple of contrasting real-world kick-drum processing examples which demonstrate the power of transient-driven dynamics processing. The first is a soft-sounding sample ( Ex10.01: WAV/MP3 play_arrow ) which I heavily processed to increase attack and reduce sustain ( Ex10.02: WAV/MP3 play_arrow ) for Mix Rescue May 2009. For Mix Rescue April 2009, on the other hand, the original kick-drum sample ( Ex10.03: WAV/MP3 play_arrow ) was softened and lengthened by reducing the attack and adding sustain ( Ex10.04: WAV/MP3 play_arrow ). Notice here that some mild distortion has been introduced as well, by virtue of the transient processing attempting to track some of the low-frequency waveform movements, but in practice this caused me no concerns within the context of this specific mix. One final common application of transient processing is in taking the edge off pick noises on acoustic-guitar recordings. Here's an example to demonstrate how effective this fix is: this is the unprocessed recording ( Ex10.05: WAV/MP3 play_arrow ), and here's the transient-reduced version ( Ex10.06: WAV/MP3 play_arrow ).

Tempo-driven Balancing: Here's an example from Mix Rescue July 2010 to show how tempo-synchronisation can serve useful mix-balancing purposes: this electric guitar part has lots of recorded-in delay ( Ex10.07: WAV/MP3 play_arrow ), but by synchronising U-he's flexible Uhbik-T tremolo plug-in to the project tempo, I can use it to reduce the note sustain between the sixteenth-note picking transients ( Ex10.08: WAV/MP3 play_arrow ).
Updates
Update: In the first edition of the book, Figure 10.2 describes Logic's bundled Envelope Shaper plug-in as a threshold-dependent transient processor. Many thanks to reader Lorenz Reichelt for alerting me that this plug-in can also function in a threshold-independent manner if you set its Threshold control to its lowest possible value.
Links
Further Reading
More Information On Gating: You can read in detail about the theory and practice of gating in these articles: 'Advanced Gating' (part 1) and 'Advanced Gating' (part 2). The second article also talks about how to use gates to produce tempo-triggered dynamic effects.